RM43-6RD Flat Foot Rack - Ryan Davis Signature Design (Matte Black)
RM43-6RD Flat Foot Rack - Ryan Davis Signature Design (Matte Black)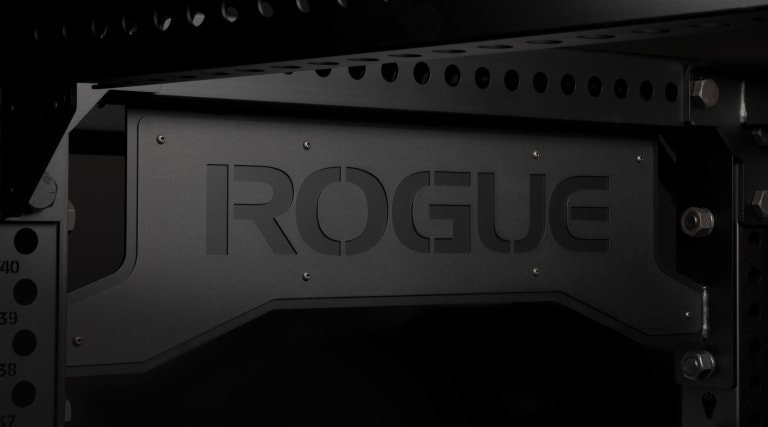 Finish and Detailing
Each rack comes standard with a ROGUE Nameplate, which has a base finish of soft-touch matte black powder with texture-black, laser-cut Rogue panels. This same color combination applies to the corner gussets that face outward on the top crossmembers. Laser-cut numbering is included on the uprights and bottom crossmembers, and the 1" hardware is finished in the same proprietary finish as found on our Ohio 2.0S barbell sleeves. This finish transforms the surface of the steel rather than coating it, greatly improving its long-term corrosion / impact / abrasion resistance.
"The Lock"
This patent pending 5-bolt top joint method not only includes the typical crossmember-to-upright joint (as seen on other power racks), but also an additional gusseted portion that connects perpendicular to the crossmember. This two-axis fastening removes all movement from the top of the rack.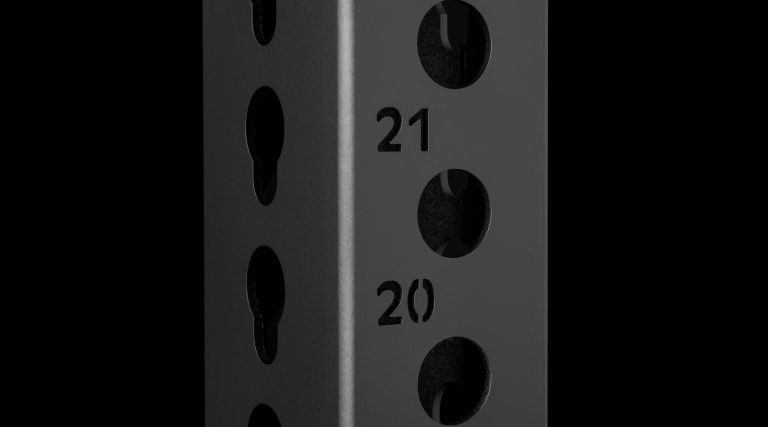 4x3" 11-Gauge Steel Tubing
The largest available in our rack line-up and among the largest ever made widely available in the industry. Having equipped many collegiate and pro training facilities with our time-tested Monster 3x3" racks, the 4x3" adds still another level of stability—without inhibiting function.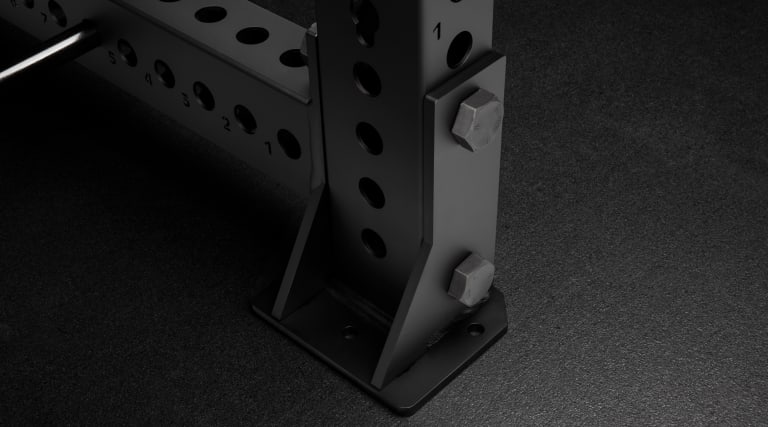 Gusseted Base Crossmembers
By incorporating gussets into the rack's bottom crossmembers, rather than the uprights, the design further prevents side-to-side movement in the lower half of the rack, reinforcing any footplate that isn't sitting perfectly flat on the training surface. The crossmember gussets at the base lock directly into the upright feet themselves. We've also added a gusseted 3/8" washer plate to the front and back of the rack at the bottom.
"The biggest accomplishment of the rack, from the design standpoint, is that we were able to put all of this in a 6-foot floor footprint. This allowed us to extend our turf in the center of the room by almost 4 feet without sacrificing space anywhere else or being cluttered."
– Ryan Davis, Director of Football Strength and Conditioning at the University of Maryland
Ryan Davis Signature Edition
Like our standard RM-43 Racks, the Davis Signature model is manufactured in Columbus, Ohio, and features our largest 4x3" 11-gauge steel tubing and 1" hardware, along with an innovative 5-bolt top joint and twin-axis fastening method–virtually eliminating all movement from the top of the rack. The wider flat-foot base delivers an even greater level of overall stability, while the extra lifting space enables athletes to use an extra-wide stance during squat movements.
As Ryan further explains, "We added the flare at the bottom of the rack so the bar storage wouldn't impede the functionality of the rack, but we also felt it represented a new age or futuristic look which gave us the best of both worlds."
As a Signature Edition rack, the RM43-6RD comes in one standard upright height (100.375") and finish (Matte Black Powdercoat), with a full arsenal of included attachments and accessories personally selected by Ryan Davis. These include: Optimized Plate, Bar and Band Storage, RM43 Safety Spotter Arms, RM43 Matador with Hanger, RM43 50 Cal Trolley & Lever Arm Kit and Pull-Up Bars.
Optimized Plate Storage:
(2) Floating Bumper Storage Rails with Backstop and SS Dividers, as well as (8) 12" Monster Plate Storage Pins. "The horizontal plate storage was designed to maximize efficiency while making life easier on the coach and athlete, who won't have to bend down to change plates."
Bar & Band Storage:
(2) Top Mount 2-Bar Vertical Bar Storage attachments and a set of (2) combination Band/Chain Hangers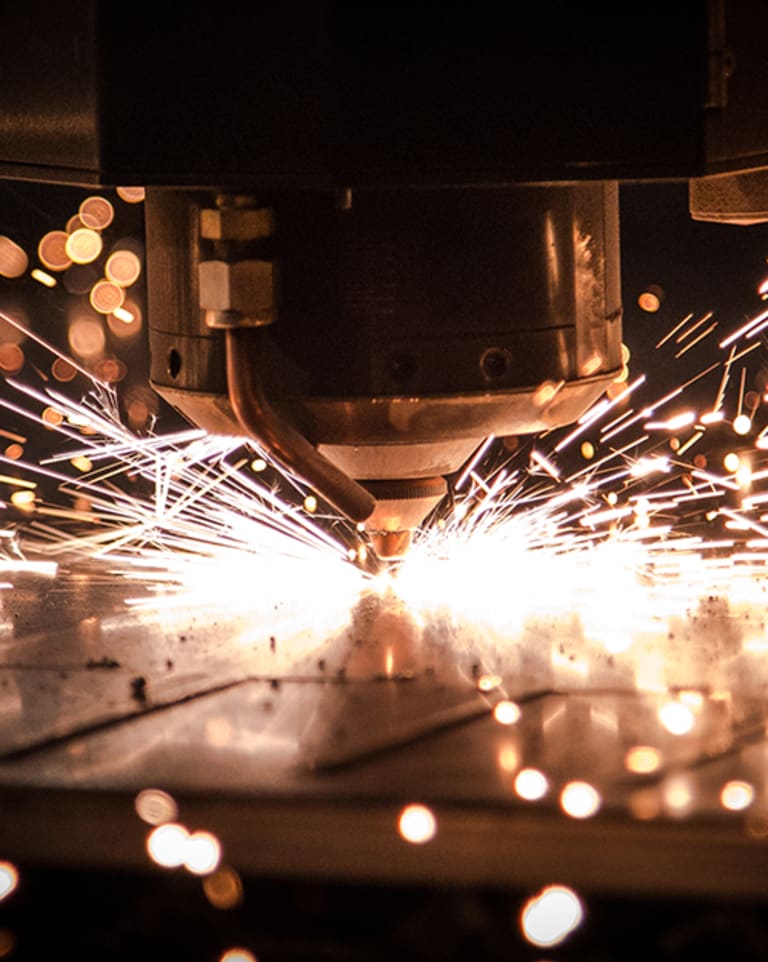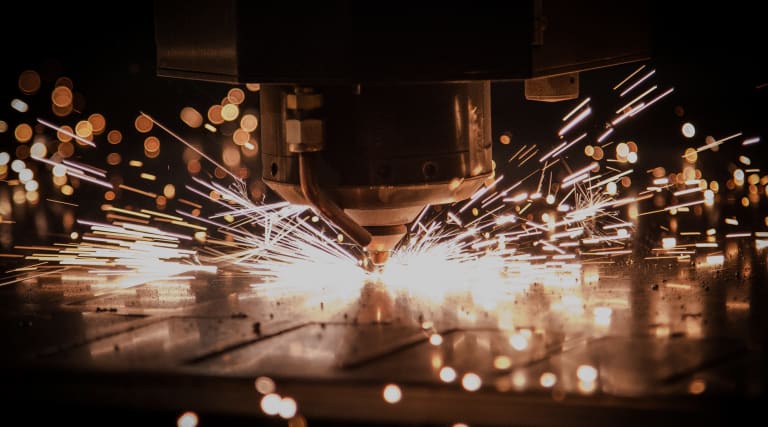 How It's MadeLaser-cut
By cutting our own parts in-house on top-of-the-line Trumpf Fiber Tube Lasers, we're able to produce more precise components in less time, while also ramping up the development and prototyping of new products. Nitrogen used in the process has also been proven to ensure better paint adhesion. The Rogue team can test multiple iterations throughout the design process to cater to a customer's specific needs.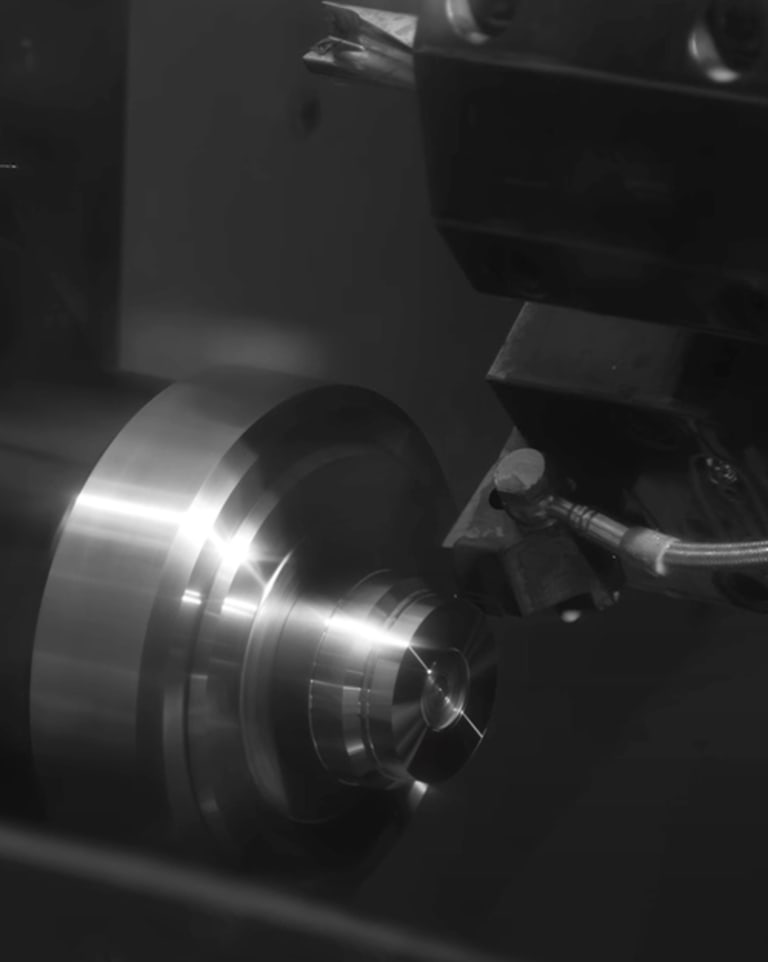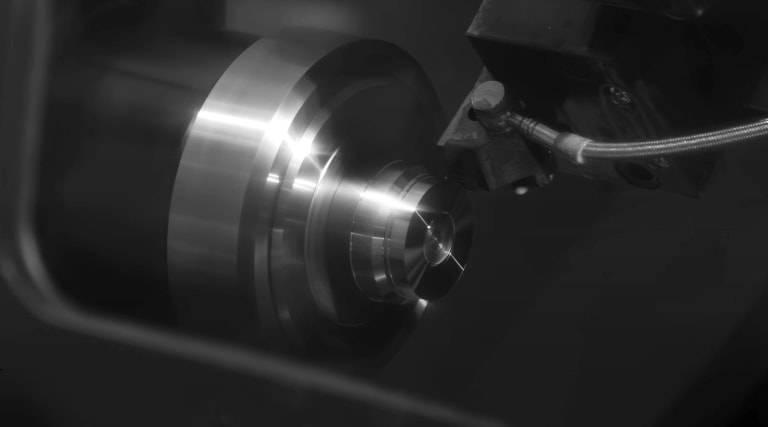 How It's MadeCNC
Rather than purchasing parts off the shelf and adapting them to our needs, Rogue decided to use our own CNC manufacturing abilities to make parts that are custom designed to serve a specific purpose. This allowed us to blend form and function for a modern appearance with unique functionality. Our custom shaft collars now have increased surface where they contact the rack for improved stability, and machined acetal washers ensure that contacted paint is better protected.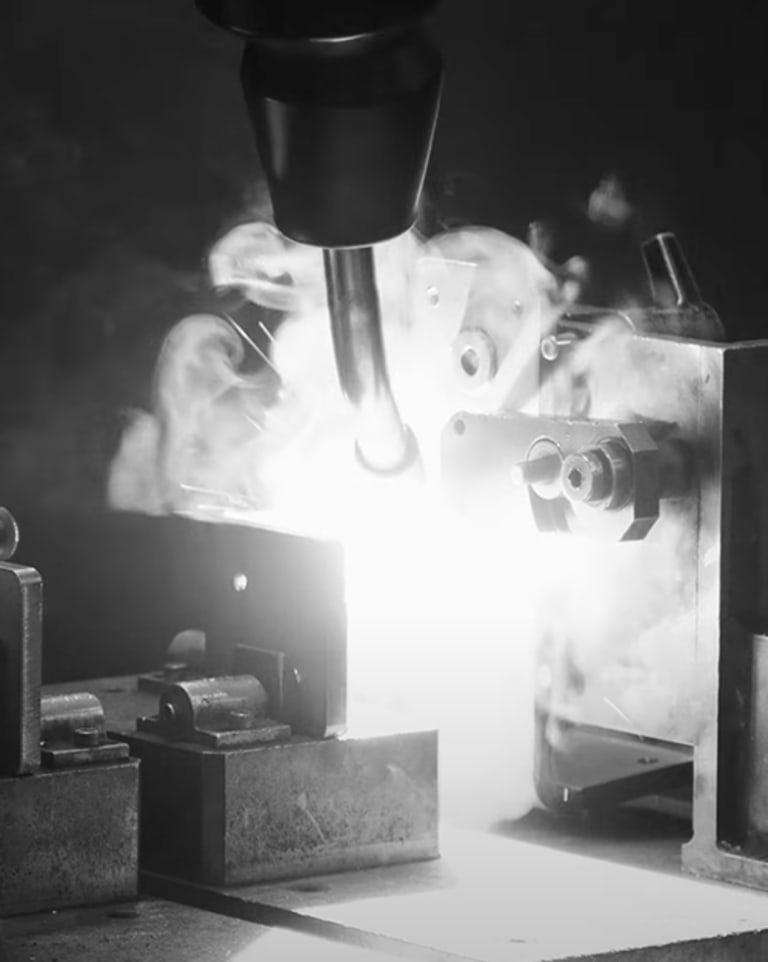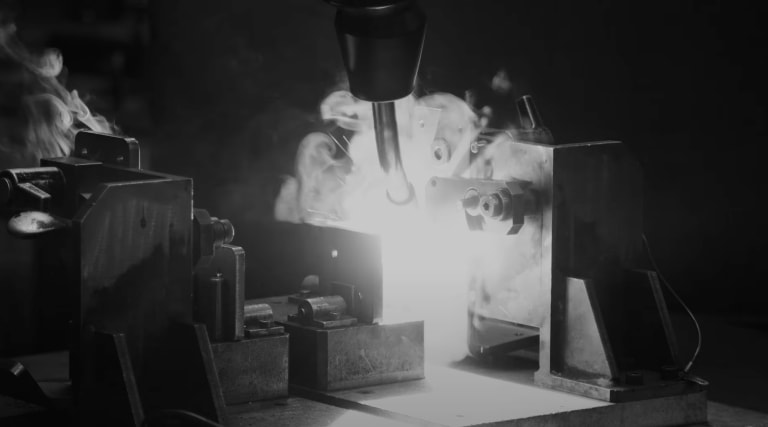 How it's madeRobotic Welding
Robotic welding results in the highest quality, strongest, and most uniform welds available. This is made possible by the robot's accuracy, consistency, and efficiency. When used with our in-house manufactured fixtures, quality and precision that were previously unattainable in fitness equipment become not only possible, but routine.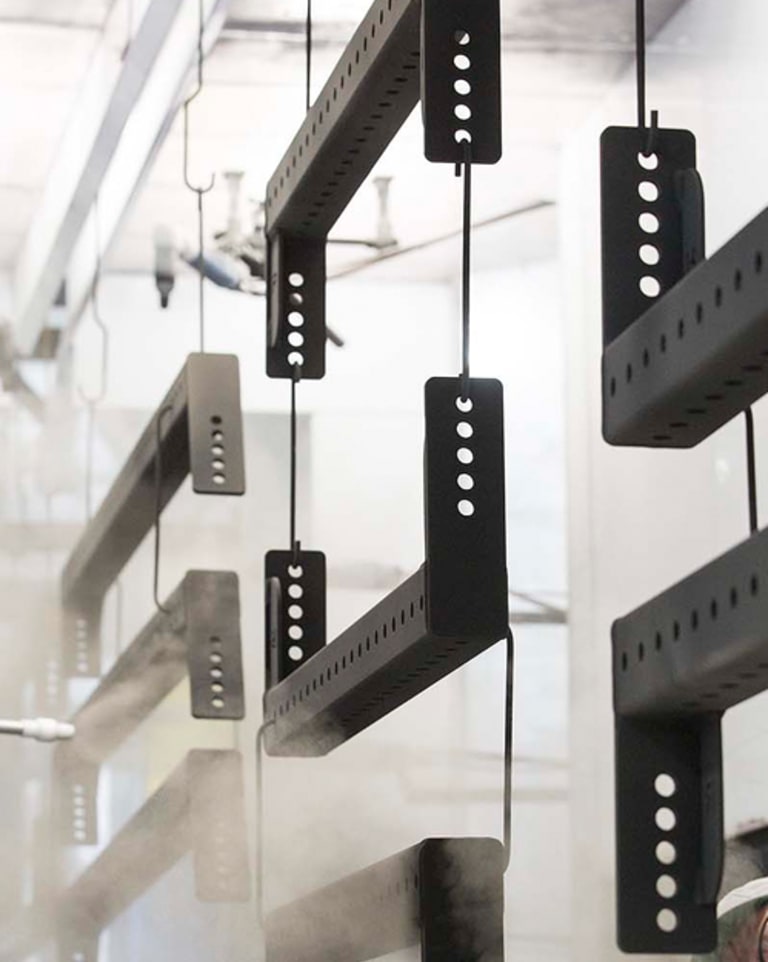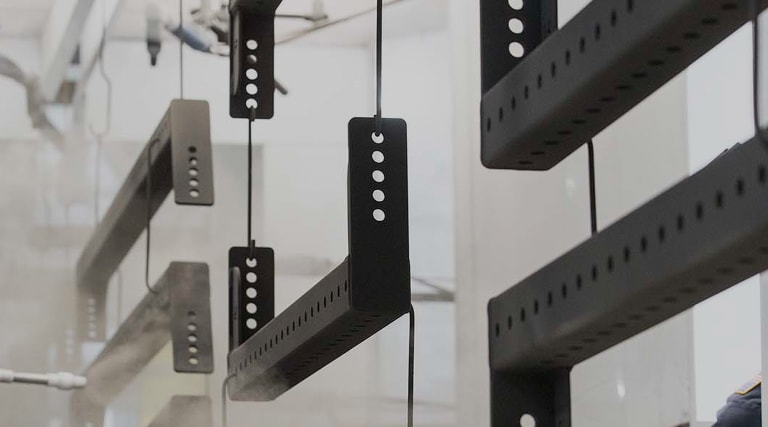 How It's MadePowdercoat Line
Rogue's in-house, overhead conveyor powder-coating line is highly advanced and offers multiple advantages over older systems. First, by using multiple paint booths, parts can be continuously run with minimal downtime for color changes. Robotic paint booths are used for more consistent coverage, and all parts are prepped using an automated system ensuring outstanding paint adhesion. As a final step, parts pass through a cooling tunnel that allows them to be taken directly from the line and immediately boxed, which avoids damage that can occur with additional, unnecessary handling.
RM43 Safety Spotter Arms
Tested to withstand drops of up to 800LB, the included set of RM43 Safety Spotter Arms offer dependable protection for both the lifter and their equipment. The arms extend 2 feet from the uprights and feature laser-cut numbering, a matte black powdercoat finish, and a lip on the end to prevent the dropped bar from rolling off.
RM43 Matador with Hanger:
Built for compatibility with the rack's 4x3" uprights, this adjustable dip station attachment includes welded joints and a lock-in anchoring system for maximum stability throughout a workout. The two comfort-grip handles measure 1 7/8" in diameter and are set at an angle to allow a greater variety of grip width options. A specialized Matador storage hanger is also included.
RM43 50 Cal Trolley & Lever Arm Kit:
Built for compatibility with the rack's 4x3" uprights, this kit can be used for everything from incline bench presses to rack pulls, shrugs, squats, deadlifts, bent-over rows, snatches, and lunges. It includes articulating handles, Lever Arm Plate Load attachments, and a set of 2" Sandwich J-cups (which allow the Trolley to be used in the style of a Monolift when the arms are in the unlocked position).
Pull-Up Bars:
This rack includes (1) Crown Pull-Up Bar, which allows users to train through a range of wide, narrow, pronated, supinated, and neutral grip styles, and (1) Flying Pull-Up Bar: a 4-rung / 45-degree inclined attachment that functions like a heavy-duty pull-up ladder, with four 43" single pull-up bars connected to a pair of 11-gauge steel arms. The Flying Pull-Up Bar comes with a set of hooks and can be used with climbing ropes, bands, and gymnastic rings, as the greater height offers up more training possibilities.
Rack Specifications:
Includes (8) 100" uprights, with laser-cut numbering, arranged into three 24" deep sections (compared to the 43" + 24" configuration of the standard RM43-6).
All 1" hardware includes our proprietary matte black finish.
Made in USA
Yes
Length
149" Total
Including Flying & Crown Pull-Up Bars

Width
43"
Inside Upright
Height
100.375" - Uprights
134.5" - Flying Pull-Up Bar
Steel Notes
4x3" 11 Gauge
Foot Print

91" x 56"
Made in USA
Yes
Length
149" Total
Including Flying & Crown Pull-Up Bars

Width
43"
Inside Upright
Height
100.375" - Uprights
134.5" - Flying Pull-Up Bar
Steel Notes
4x3" 11 Gauge
Foot Print

91" x 56"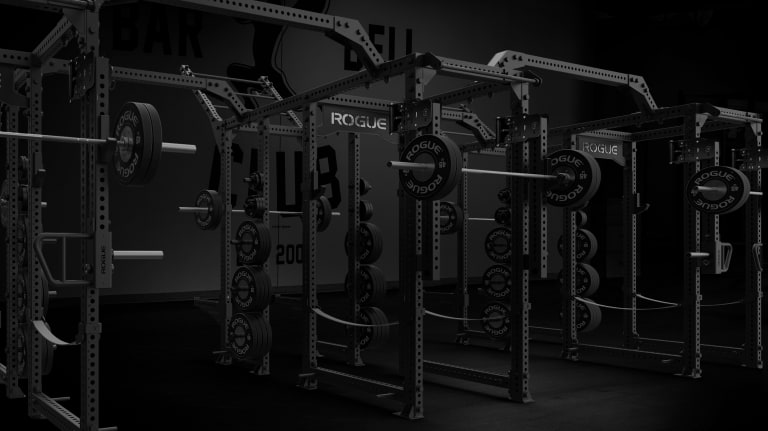 Customize the RM-43-6RD
Built for Your Needs
#RYOUROGUE
Tag your photos on Instagram and Twitter with #RYOUROGUE for a chance to be featured in our gallery
View Full Gallery