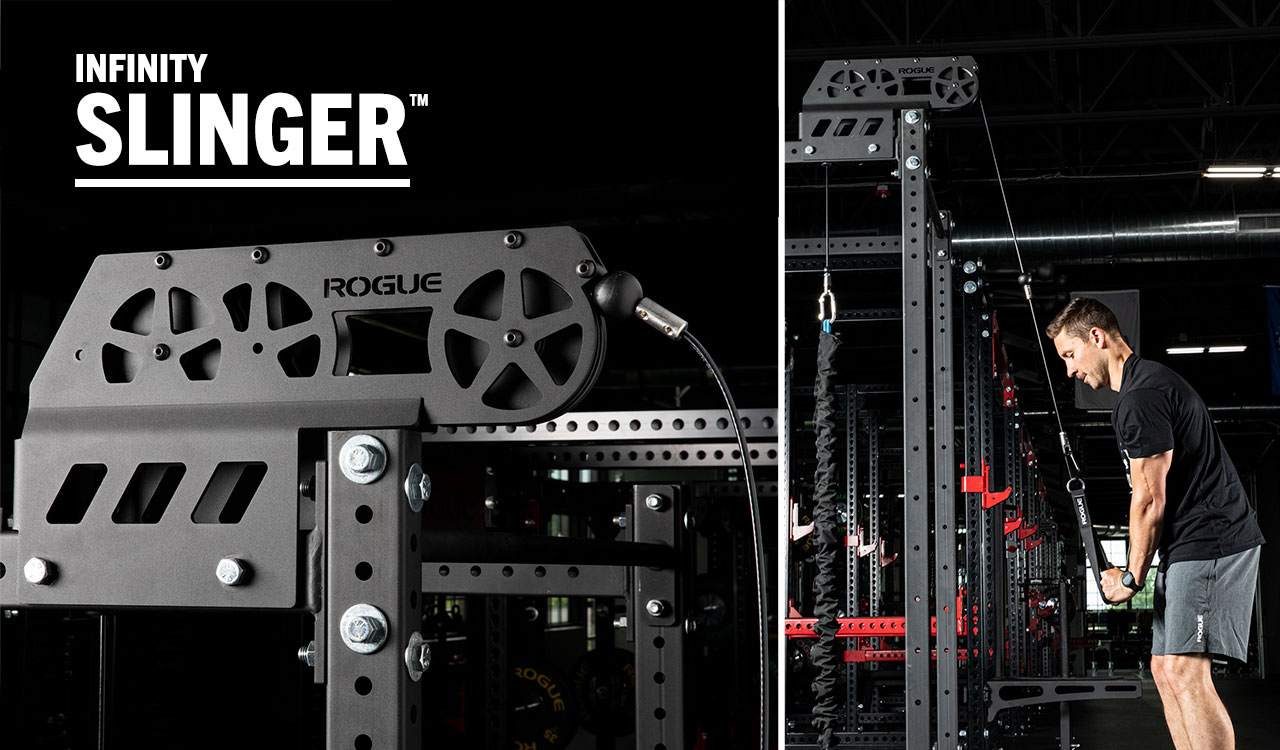 *Due to the 41" length of our Monster Bands, we suggest doubling up each band, i.e., feeding the band through the bottom carabiner (attached to the extension strap) until it is centered, then connecting both ends of the band to the top carabiner (attached to the cable). This will greatly increase the resistance beyond the bands' standard LB increments.
Customers interested in lighter weights can also explore our full line-up of Monster Bands, available a la carte. Important: All resistance bands are wear and tear items and should be inspected prior to each and every use. We always recommend that the provided Slinger Band Sheath be used in conjunction with resistance bands on the Infinity Slinger.
Optional Slinger Crossmember Additions:
These custom steel tubes include a laser-cut hole for the cable to pass through; a feature not included on standard Infinity rack crossmembers.
24" Crossmember: For the back of an R-6 or for a 24" depth R-3 Bolt-Together Rack
43" Crossmember: For an R-4 Rack
Specifications:
Patent Pending Design
Pull Ratio: 1:1
Rack-Mounted Cable Pulley / Lat Pulldown System
Compatible ONLY with 2x3" Rogue Infinity R-Series Racks
Extends 7" out from and above upright to which it is mounted
Attachment straps and resistance bands sold separately from standard package
User Assembly Required
Orders are packaged and shipped from Rogue HQ in Columbus, OH. You can follow its progress from our factory floor to your door using the Rogue Shipping Tracker.
Gear Specs
| | |
| --- | --- |
| Brand | Rogue Fitness |
| Made In USA | Yes |
| Color | Black |
| Length | 22.8" Total Length / Extends 7" beyond face of mounting upright |
| Height | 13.25" Total Height / Extends 7" above top of upright |
| Other Product Specs | MIL Spec 1/4" Steel Cable, Mounting Holes 8" on center |
| Steel Notes | 1/4" Thick Steel Pulley Mount Plates |
| Infinity Compatible | Yes |
Key Features of the Infinity Slinger
1

Mounting Plates

The Infinity Slinger can be installed ONLY on Rogue Infinity R-Series Racks. This can be done using the included pair of laser-cut and formed, ¼" thick steel Slinger Mounting Plates, which feature a quality Signature Texture Black Powdercoat finish and Rogue branding.

2

Cable & Hardware

To get the same consistent feel of a freestanding lat pulldown machine, we have equipped the Infinity Slinger with a ¼" MIL spec cable, with two durable 6" pulleys and Rogue-made hardware. A pair of ⅝" Bolt Assemblies are also included standard, along with two steel carabiners: one to connect the cable to the resistance band & one to connect attachments to the cable.

3

Extension Strap

Made from 1.5" wide nylon webbing, our exclusive Slinger Extension Strap is essential for connecting to 108" tall racks or rigs, but can also be used to adjust how much tension is initially on the bands, regardless of rack height.

4

Protective Band Sheath

The Slinger Band Sheath is made in-house and connects at the same connection points as the resistance bands. Made from 1000D Cordura, it's designed to slide over the resistance bands, acting as a protective safety net of sorts. If a band breaks, the sheath can stop the cable from flying up through the rack, while also containing the band so it doesn't snap against the user or nearby athletes.

5

Infinity Shackle

Made from a ¼" thick laser-cut and bent steel plate, the Rogue Infinity Shackle serves as a sturdy mounting point for the cable/bands to the lower crossmember within the user's rack.

6

Rubber Grommets

A set of rubber grommets are included to install on the crossmember that the cable runs through. This will help prevent the cable from coming into contact with the edges of the laser-cut holes on the crossmember.
Add to Registry

Please choose the registry you want to add this product to: