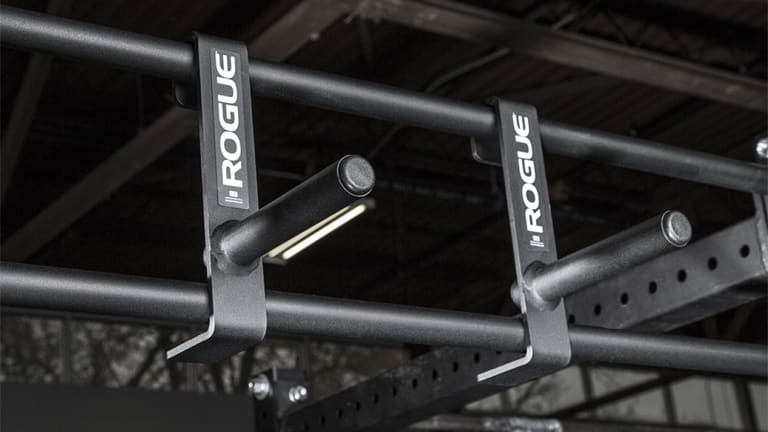 3 Ships Free Item
Buy 3 or More Items Marked "3 Ships Free" And They All Ship for Free
Gear Specs

Brand
Rogue Fitness
Color
Black
Made In USA
Yes
Length
7"
Height
11"
Diameter
1.25"
Infinity Compatible
Yes
Echo Compatible
Yes
Monster Lite Compatible
Yes
Product Description
Rogue Neutral Grip Handles can attach to any standard X-43 or X-70 Crossmember. Simply drop them over the top bar and they lock in. Slide them left or right to adjust the width.
Read More
Unlimited grip width options.
Rogue Neutral Grip Handles can attach to any standard X-43 or X-70 Crossmember.  Simply drop them over the top bar and they lock in.  Slide them left or right to adjust the width.
Can be used with any standard diameter X-43 or X-70 on the Squat Stands, Power Racks, Infinity Rigs or Wallmounts.
*Note: This product is not compatible with our Monster Line.
Gear Specs
Specifications:
Handle Length: 7"
Handle Diameter: 1.25"
Overall Height: 11"
Shipping
Rogue Fast Shipping
The Rogue Shipping System allows you to track your order from the time you place it to the time it hits your door. Order today, track today.
Reviews
Too small
I bought this and the it didn't fit the monster rig that we have for our company gym. I tried working with support and didn't a solution at all which made me pretty frustrated. I needed ones that were 11' in height but apparently they're not made by Rogue which is weird since we have everything rogue in our gym.
Response from Rogue Fitness:
May 24
The Neutral Grips are an accessory that is not compatible with our Monster Line. This is noted on the product page and apologize if this was missed. Our team is happy to assist in setting up a return.
Would be ideal if not bent at the bottom
I have a single pull-up bar and purchased a removable pull-up bar from Rogue to use it on a different heights for different exercises. Unfortunately, the design of the removable pull-up bar doesn't allow to place it close enough to the fixed one, essentially making the neutral grips unusable with this particular configuration. I ended up straightening up the lower 90-degree bend to make sure they fit. If they would come like so from Rogue - would be much more versatile solution IMHO!
Yes, I recommend this product
Great addition!
I've had my grips for only a few days, but I can tell you they're solid and they fit as described. I've seen a few comments about powder coating being scraped off at the contact points. I'd suggest some friction tape— protects the finish and helps the grips stay put.
Yes, I recommend this product
Great Grip
fits perfectly with the Rouge Monster Lite Cross Members. Great for training
Yes, I recommend this product
Originally posted on rogueeurope.eu
Doesn't work with fat/skinny bar
Despite previous reviews stating that it does, this attachment does not work with the fat/skinny bar, even with the fat part on bottom. Received the product and it was in great shape, but the handle part that sticks out of the back runs into the fat bar. This makes the product non-functional because it causes the attachment to slip/slide on the bar. Emailed customer service to see why the product didn't work and they said it was not compatible with the fat/skinny bar. Product description and crossmember descriptions makes it hard to decipher that the product doesn't work with the fat/skinny bar... instead of saying it works with ANY standard x-43 crossmember it should say it ONLY works with the standard x-43 crossmember with 1.25 OD on both sides. The fat/skinny bar came standard on my RML-490... seems like a standard crossmember to me. Had to return the product.
Rogue never disappoints!
As an almost 50 year old athlete (lol: exerciser) I'm always looking for ways to make movements more joint friendly. I really believe that a neutral grip is more natural for our bodies and therefore incorporate it into my training whenever possible. These grips are super simple to set up: just hook them over the top of your rack and go. They are also easily adjustable between different sized athletes (like my wife and myself) As a metal fabricator myself I can tell you that these are basically indestructible when used in the manner that they were intended for. The value for the price cannot be overstated.
Yes, I recommend this product
Flashing tape prevents metal-on-metal chafing
Based on reviewers' comments about metal-on-metal chafing between the Neutral Grips and the Fat Bar, my first step was to cover each Neutral Grip's two contact surfaces with 2" x 6" strips cut laterally from a roll of 3M Typar Flashing RA tape. That tape is 6" wide. So far, I see no chafing and no damage to the powder coating on the top Skinny Bar or on the bottom Fat Bar. Any kind of butyl rubber peel-and-stick tape probably would work. The 2" x 6" dimension fits both the top and bottom contact surfaces on the Neutral Grips. If the flashing tape wears through, I will replace it or look for a thicker sheet of rubber or synthetic material that I can cut to size and glue to the contact surfaces with 3M Super 77 Spray Adhesive. If anyone has used such a sheet or other anti-chafing material with the Neutral Grips, please post a review with details of how to apply it and where to buy it. I really like the Neutral Grips, which I bought to avoid potential shoulder problems from performing weighted chin ups and pull ups. For me, the biggest advantage is the ability to vary the spacing between the grips. Also, at 5' 8" I can do a full hang from the Neutral Grips on my RML-490 (90" uprights) rack with my knees bent but not touching the floor. Taller users should determine how much vertical space between the Neutral Grips and the floor they will need.
Yes, I recommend this product
Awesome
Most people are missing a neutral grip chin-up method and this tool solves that issue. I like how it's maneuverable for different widths. Pretty steady and stable and I'm doing combined weight of 275+ on this. Great! savings over buying the cross member that would go across your rack and at same time doesn't provide width adjustment.
Yes, I recommend this product
#RYOUROGUE
Tag your photos on Instagram and Twitter with #RYOUROGUE for a chance to be featured in our gallery
View Full Gallery