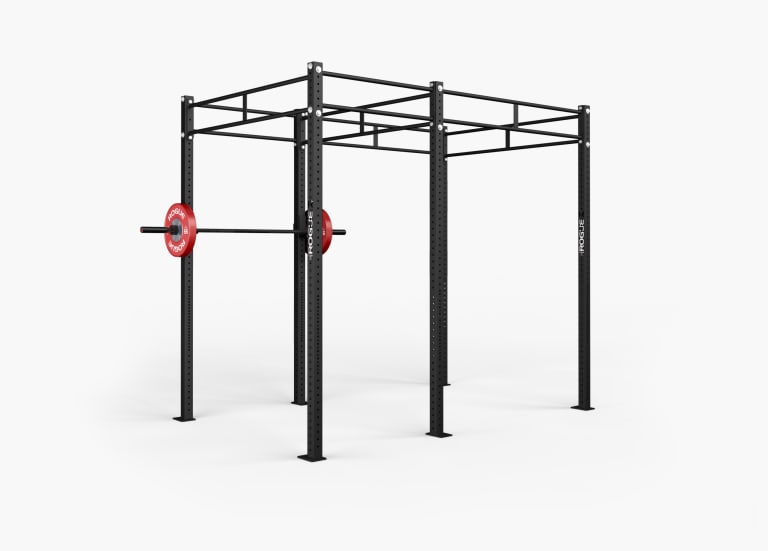 Edition (3)*Base 2.0 Edition
43" Dirty South Bar - Substitute
Can only be used as a substitute when purchasing an Infinity/Monster Lite rig, rack and/or squat stand
70" Dirty South Bar - Substitute
This substitute is priced for purchase with an Infinity or Monster Lite rig only
XML-144 12' Monster Lite Upright
SAML-24 Monster Lite Safety Spotter Arms (Pair)
Monster Lite Strap Safety System 2.0 - 43"
Rogue 43" R-4 Pin and Pipe Set
Rogue Rig Concrete Anchor Kit
Includes (18) concrete anchors
Gear Specs

Brand
Rogue Fitness
Made In USA
Yes
Length
Varies
Width
6'
Height
9'
Steel Notes
3x3" 11-Gauge Steel
Monster Lite Compatible
Yes
Reviews
Worth the wait
Our journey to this home gym took a few years, required moving and building a metal building large enough for what we had in mind, but in the end it was worth the wait. Every piece of Rogue equipment has exceeded our expectations, excellent quality. I was most surprised by how solid the rig is without being anchored. We purchased the bolts with the plan to anchor it, but after having for a few months now, we won't need to. I think you'd need to be slinging some big time weight around before this thing started to move. Current setup is good for a family of 4 but it's nice knowing that you can easily add to this setup, if needed.
Yes, I recommend this product
High quality
The rig is super high quality construction. Works really well with all the ways it can be customized.
Yes, I recommend this product
24' Rig
Game Changer to gym efficiency! More options for members, keeps people more centralized so no need to move outside of workout stations. Added 4-12' posts so could do ring muscle ups. Mixture f powder coat bars with Speal and thinner steel so more options for people.
Yes, I recommend this product
Perfect Rig
We were in need of another rig for our Dreamland Kids class. It is perfect and the kids love it.
Yes, I recommend this product
Built like a Tank
Great finish and very sturdy. Wanted the height for wall ball targets and rings.
Yes, I recommend this product
Love it!!!
I bought the 10' version for my home gym, as my CrossFit box is COVID closed. I was a little apprehensive about putting it together, as I have never anchored anything into concrete. The assembly and anchoring was simple but I would recommend two people. As far as the rig itself...it is rock solid! Typical Rogue over-engineered this will withstand any more abuse than I can throw at it.
Yes, I recommend this product
Easy setup!
Went together easier than we thought! One night 3.5 hrs! Awesome!
Yes, I recommend this product
Fantastic Piece of Equipment
Purchased this for my Physical Therapy Office, highest quality piece of exercise equipment i have ever purchased.
#RYOUROGUE
Tag your photos on Instagram and Twitter with #RYOUROGUE for a chance to be featured in our gallery
View Full Gallery