Rogue Monster Lite Slinger™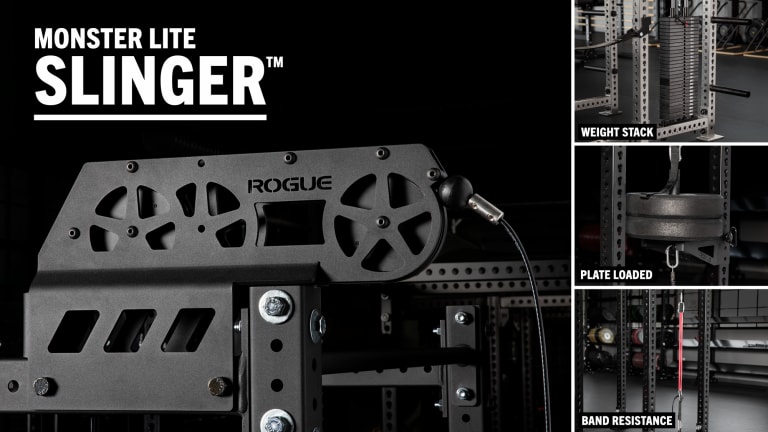 Rogue Monster Lite Slinger™
Rogue Monster Lite Slinger™ Accessories
Available Options (5)
Gear Specs

Brand
Rogue Fitness
Color
Black
Made In USA
Yes
Length
22.8" Total Length / Extends 7" beyond face of mounting upright
Height
13.25" Total Height / Extends 7" above top of upright
Steel Notes
1/4" Thick Steel Pulley Mount Plates
Other Product Specs
MIL Spec 1/4" Steel Cable, Mounting Holes 8" on center
Resistance Types:
Available as an optional add-on for a new Slinger or a la carte to convert an existing Slinger from band resistance to plate resistance. Works with standard bumpers or steel plates. Package includes:
Loading Pin:1.9" diameter, 11.5" loadable space. Weight unloaded = 7.5lbs. Texture Black Powdercoat finish.
Plate Load Base: Supports the loading pin when adding plates and connects to customers upright via a 5/8" detent pin. Made from 3/16" laser-cut and formed steel. Texture Black Powdercoat finish.
Stroops Lightweight Sheathed Resistance Band: Prevents the loading pin from swaying around while in use. It gets clipped into the bottom of the loading pin from the shackle that is connected to the bottom crossmember. Color: Black
Specially Designed Slinger Shackle: Replaces the Monster Lite Shackle of the base unit (if ordering a new Slinger with the Plate Load option, the standard ML Shackle from the base unit package will NOT be included).
Comes with an assortment of resistance bands that connect to the Monster Attachment Post for tricep work and gradual adjustments on lat pulldown movements. Includes:
(2) #0 Orange Monster Bands (15 LB resistance)*
(1) #1 Red Monster Band (30 LB)*
(1) #2 Blue Monster Band (50 LB)*
(1) #3 Green Monster Band (65 LB)*
*Due to the 41" length of our Monster Bands, we suggest doubling up each band, i.e., feeding the band through the bottom carabiner (attached to the extension strap) until it is centered, then connecting both ends of the band to the top carabiner (attached to the cable). This will greatly increase the resistance beyond the bands' standard LB increments.
Customers interested in lighter weights can also explore our full line-up of Monster Bands, available a la carte.
Important: All resistance bands are wear and tear items and should be inspected prior to each and every use. We always recommend that the provided Slinger Band Sheath be used in conjunction with resistance bands on the Monster Slinger.
The Weight Stack Slinger is specifically designed for 90" tall Monster Lite racks. Racks heights other than 90" tall may not be compatible with this set-up. You can contact us at team@roguefitness.com for inquiries. The Weight Stack kit includes:
Chrome-Plated Guide Rods
300 LB Adjustable Stack in 10 LB increments
Key Features of the Monster Lite Slinger™:
The latest version of the Monster Lite Slinger now gives customers the choice of using the attachment with either a 300 LB weight stack, a resistance band kit, or plate-loaded resistance (featuring a mounted 1.9" diameter loading pin that works with standard bumpers or steel plates). It's also possible to order resistance kits a la carte to switch from one format to another on an existing Slinger, keeping in mind that the Weight Stack option may not work with units more than 90" tall.
The Monster Lite version of the Slinger can be installed ONLY on Rogue Monster Lite Racks . This can be done using the included pair of laser-cut and formed, ¼" thick steel Slinger Mounting Plates, which feature a quality Signature Texture Black Powdercoat finish and Rogue branding.
To get the same consistent feel of a freestanding lat pulldown machine, we have equipped the Slinger with a ¼" MIL spec cable, with two durable 6" pulleys and Rogue-made hardware. A pair of ⅝" Bolt Assemblies are also included standard, along with three carabiners.
Made from 1.5" wide nylon webbing, our exclusive Slinger Extension Strap is essential for connecting to 108" tall racks or rigs, but can also be used to adjust how much tension is initially on the bands, regardless of rack height. May not be applicable to Weight Stack Slingers, which are designed for 90" tall units.
Optional Slinger Crossmembers
Because the standard Crossmembers on Monster Lite units do NOT include holes on the top/bottom of the tubes, customers can add 24" or 43" Slinger Crossmembers to their order, which include pre-drilled holes for the cable to pass through. Without a Slinger Crossmember, you'll need to drill a hole through the existing Monster Lite crossmember ahead of set-up. This can be done by an experienced craftsman or by taking the tube to a local fab shop.
In the dropdown menu, customers can choose to add a nylon Rogue Tricep Strap, a Pioneer Leather Tricep Strap, or no strap at all, if you already have a preferred pulldown option. There's also the option of adding a Rogue Stainless Steel Lat Bar Attachment, a fully knurled bar that's 48" long and 1.125" in diameter, with laser-cut Rogue branding and a Black Zinc/Bright Zinc finish. For customers planning to install the Slinger on a 108" tall rack, an additional 12" Grip Strap + Carabiner package can compensate for the cable usage difference, allowing shorter athletes to have a free range of motion and a more effective workout.
Reviews
Does the job!
I was very hesitant on buying this because of some of the reviews but I'm so glad I bought this! It is absolutely amazing! I can do exactly what I need to on it and the plate loadable one is perfect for my rack! It is very smooth and works well! Assembly was easy and took half hr!
Yes, I recommend this product
Pretty happy overall
I went all in on the slinger, I got it with the weight stack, low row/ lay pull down seat, and the single adjustable pulley. It all bolted up to my rack with no problems. Any the component quality is what I would expect from Rogue. There are a few things in the details that could be better. The first thing is something that I was aware of before I bought this. Since this is a 1 to 1 pulley ratio the range of motion is limited. To increase the range of motion, I only loaded 250 lbs on the weight stack, if repping out 250 on lat pull downs becomes a limitation, that is a problem I would like to have. This is where I think Rogue could do a better job. When you read through other reviews some of the complaints relate to the range of motion. I think that the cable length should be shorter out of the box so that the ball stop is closer to the pulley. Then they should provide extension straps, or a length of chain to allow the attachment height to be adjusted to maximize the usable range of motion for their height and limb length. Was able to find some straps and different sizes carabiners to adjust the start position. Before I made this change for some exercises the weight stack was hitting the top of my rack before I completed the full range of motion of the exercises. For other exercises I didn't have tension at the beginning of the exercises. I am happy at where everything is now, but it would be nice if I didn't have to figure out how to maximize the usability of my slinger..
I couldn't love it more
I bought the weight stack and slinger a month ago and it showed up much sooner than anticipated. The setup was very easy. I added it to my RML-490c which has the holes already drilled for it. Took maybe an hour to set up by myself. I cannot get over how smooth the operation of the pulley is. I love it.
Yes, I recommend this product
Perfect.
Not one to review. But I've noticed a lot of comments about range or motion. Adjust the set screws before the 1" ball. You'll have all the range needed.
Yes, I recommend this product
Scutinize compatibility, it is not plainly obvious
Whereas it claims "The Monster Lite version of the Slinger can be installed ONLY on Rogue Monster Lite Racks", it is not compatible with the Flat Foot Monster Lite Rack. In order to know this prior to ordering, one would have to expand the compatibility drop-down and know the rack code (RML-390F); compatiblity is not listed by part name. I think Rogue Fitness should make this more obvious, but buyer-beware is the theme. 2 stars because it is a well engineered and built accessory. Just for certain racks.
Response from Rogue Fitness:
Jun 2022
We try to be clear on the Compatibility section of the Monster Lite Slinger page that this is not compatible with our RML-390F and we're sorry if this was missed. Our team is happy to work with you on getting this returned.
limited range for 90 inch unit
Using it for a few weeks now and it's an overall a useful and space saving addition to the 490C, but if you have the space then go with a stand alone cable system that has more height. It needs the 100+ inch height to allow a full range on several movements and I find it easy to hit the top of the stack's range of motion. The pulleys are serviceable but generally low quality. All of them wobble in rotation once positioned, with one constantly hitting the housing. I'm checking aftermarket now for a quality replacement but these are larger than the standard 90 or 115 mm. I ordered the 300lb weight stack with the slinger and had to dremel out the weight guide rod channels on five of the plates to remove burrs preventing them from sliding onto the guide rods.
Response from Rogue Fitness:
Jun 2022
We're very sorry for any issues you experienced with the weight stack, and our team is reaching out now to investigate this!
If you have a 96inch rack, I would avoid this.
Anyone looking to buy this item should be very cautious of your rack height. They suggest it is suitable for racks 90-108 inches. I have a 96 inch rack and it simply does not work correctly. The first cable that was sent was so long that when you attempt to do a lat pulldown, the bar is at the height of your forehead (for me, I'm 6'-6'1"). Impossible to perform the lift. They sent a replacement cable that would "eliminate the slack between the carabiner and the mounted pulley". Well, the new cable certainly did do this, it eliminated the space. However, when you go to perform the movement, the bar has to move so far before you begin the rep there isn't any room left for the weight to go up to actually do the exercise (it crashes into the rubber grommet). Solved one problem and created another. I'm sure if a custom cable could be made (instead of one of the two lengths they offer) I would find a sweet spot, but I was told they only have these two lengths available. I may try to remedy this one my own in the future. For now, I'm using 3 carabiners to add length to the short cable. This allows me to perform most movements "okay" but it is frustrating when you have a training partner. Also, the low pulley attachment that goes with this, doesn't work very well with either cable length. The shorter, replacement cable, will function fine for me, 6 foot+, but anyone shorter would need to stand on something to reduce some of that length if they wanted to do, say, a hammer curl with a rope attachment. I suspect this piece of equipment would work better on a rack of a different height if you can get the correct cable length. Nevertheless, I believe avoiding this altogether is your best option. I've spent divorce tier dollars at Rogue in recent years and most stuff I have 0 complaints and it is well worth the money. This one...good luck.
Limited Range
Bought this when I upgraded my gym, and it truly saved me a lot of space. Assembly was easy and well explained. The main issue is a wire rope stop sleeve with three hex screws. This unfortunately limit your range of motion on quite a few exercises depending on your height. I'm 6' and tricep extensions with the rogue handles were cut short at the top. Rogue currently offers no solutions to removing the torqued on hex screws, and also no solution to adjusting the range of the slinger. With the work it took to find a solution, I would have much rather went with a standalone product
#RYOUROGUE
Tag your photos on Instagram and Twitter with #RYOUROGUE for a chance to be featured in our gallery
View Full Gallery