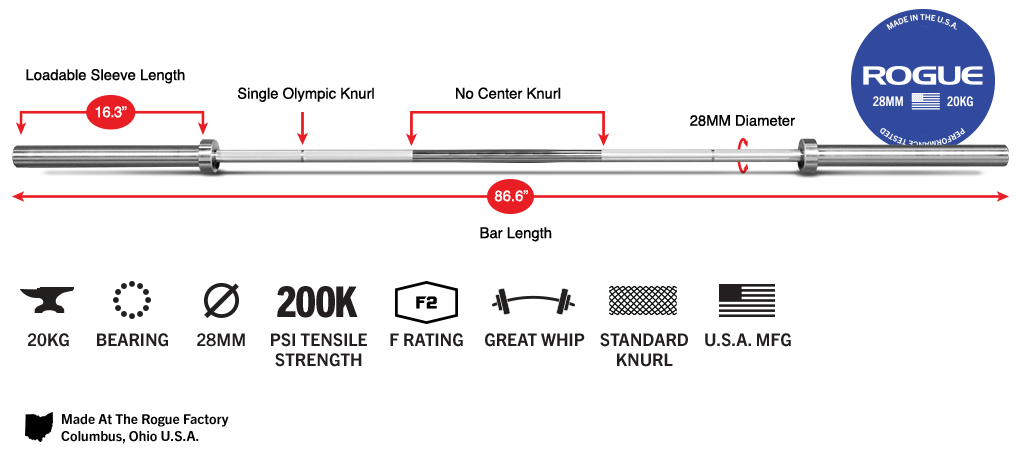 Gear Specs
| | |
| --- | --- |
| Brand | Rogue Fitness |
| Made In USA | Yes |
| Bar Type | Men's Bars |
| Bar Use | Olympic Weightlifting |
| Bar Weight | 20KG |
| Diameter | 28MM |
| Knurl | Olympic |
| Center Knurl | No |
| Knurl Marks | Olympic |
| Shaft Coating | None - Stainless Steel |
| Loadable Sleeve Length | 16.30" |
| Sleeve Coating | Chrome |
| Bushing/Bearing | Bearing |
| F Rating™ | F2 |
| Tensile Strength | 200,000 PSI |
| Guarantee/Warranty | Lifetime Warranty* |
Rogue Stainless Steel Olympic WL Bar
Combining a stainless steel, 200,000 PSI tensile strength shaft with industrial hard chrome sleeves and quality needle bearings, this version of the Rogue Olympic WL Bar ranks among the best in the industry for feel, durability, and performance. Each 20KG bar is machined and assembled in Columbus, OH, and includes an exclusive Rogue knurl pattern that's precision-cut for a firm grip without the sharpness or abrasiveness of many import bars.
Rogue spent months researching and testing high strength stainless steel alloys, culminating in the creation of the world-record setting "Elephant Bar" used at the 2016 Arnold Strongman Classic. This bar handled one of the greatest loads in history due to the length of the shaft and sleeves as well as the use of 1,000LB of 2" thick steel plates. That very same steel went into making our 28MM Stainless Steel Olympic Bar, and it's a difference you can instantly feel.
Rogue also offers the Olympic WL Bar in a Bright Zinc or Chrome finish, available here, while the Stainless Steel version is also produced separately as a 15KG women's bar.
See More: Men's 20KG Barbells Available from Rogue
Olympic Knurl Marks (no center knurl) in non-aggressive pattern
Loadable Sleeve Length: 16.30"
Tensile Strength: 200,000 PSI
Dome-tag Endcaps
Key Features of the Rogue Stainless Steel Olympic WL Bar:
1

200,000 PSI Tensile Strength

This version of the Oly Bar is made from high-strength, stainless steel alloys, producing a shaft with a minimum tensile strength of 200,000 PSI. Each shaft is ground and polished prior to machining (to ensure a smooth finish), and individually tested and straightened to within 0.015" (0.38MM). The goal was to create just the right amount of "whip" or "flex" that is needed for Olympic lifting.

2

Precision Machining

Every Oly Bar is machined in Columbus, Ohio, on new Haas machines that are built in the USA. For the Olympic knurl marks, we experimented with several knurling patterns before choosing the full but minimally aggressive texture that top weightlifters responded to best. Rather than relying on visibility alone, each bar is then manually tested to ensure the actual "feel" is up to Rogue standards.

3

The Difference of Stainless Steel

With no plating, the knurl on the Stainless Steel Oly WL Bar is left exactly how we machined it, providing a great feel that cannot be achieved with other finishes. It's similar to the knurl feel from a bare steel shaft, but with better corrosion resistance. Please Note: Rogue recommends using a synthetic bristle brush, NOT a steel brush, to clean a stainless steel shaft. Steel on steel can cause rusting over time. See more tips here: Bar Care & Maintenance.

4

Needle Bearings

Our Olympic WL Bar features 10 sets of needle bearings (5 sets per sleeve) that produce a smooth, reliable spin across day-to-day use. Each bar is individually calibrated and built to meet IWF standards.

5

A New Addition to Your Rogue Arsenal

As the leading manufacturer of American-made strength and conditioning equipment, Rogue offers a wide range of Olympic bearing bars and related gear. This includes the original Rogue Olympic WL Bar and the elite Euro 28MM Oly Bar, which features a 215,000 PSI steel shaft and the addition of a center knurl. You can also fully equip your bar with quality plates, collars, and secure storage systems.

6

Fast Rogue Shipping

Rogue prides itself on fast, professional shipping. If your bar is ordered by 3PM EST Monday-Friday, it will ship same day. Your bar will be packaged safely and ship fast. You can follow the progress of your order using the Rogue Shipping Tracker.
F Scale™
The F Scale™ is a durability scale for barbells based on functional testing at stresses similar to what barbells experience when being dropped from overhead. Bars that have been treated with Rogue Work Hardening (RWH™) are designated by having an R in their F Rating™. For more information on F Scale™ click here.

Oxidation Rate
The resistance of a barbell to oxidation depends on the type of steel and the coating. Barbells at the lower end of the spectrum will require more care and maintenance to preserve their appearance than barbells at the upper end of the spectrum.

Add to Registry

Please choose the registry you want to add this product to:
Rogue Olympic WL Bar - Stainless
is rated out of
5
by
37
.
Rated

5

out of

5
by
thejosef
from
A Fine Barbell
I purchased the 200k stainless version for $595 shipped. At that price point, it's a really fine Oly bar. The knurling really has a perfect moderate feel. It's not too sharp, and not too mild. It's very grippy, without being painful in use. It might be just a hair aggressive for high rep workouts, but I wouldn't change anything about it. It's not slick at all, due the raw stainless steel. The spin is VERY fast and smooth. It has two areas that could be improved, IMO. It is not a quiet bar when dropped, and the knurl stops/starts could be cleaned up a bit. The edges feather out slightly. It doesn't effect anything, other than looks, but at this price, it should be cleaned up a bit. Functionally though, this bar is perfect and a joy to use. Note that the stainless version does not have a center knurl, which is fine by me, but some may prefer to have it. Overall, I would highly recommend the bar.
Date published: 2018-07-27
Rated

5

out of

5
by
Keithbfit
from
Nothing but greatness!
Love this bar!! The cerakote finish is fantastic and the color is an eye catcher. Glad I went with Rogue. There are some other bars out there, but I know that this bar is TOP quality and I would definitely not have been as happy if I had made a different purchase.
Date published: 2018-07-17
Rated

4

out of

5
by
Lukeamdman
from
Great olympic bar that's almost perfect
The spin is amazing and the stainless steel knurling feels incredible. My only complaint is cosmetic defects with the edge of the knurling. Half of the edges look like the pictures where the knurling comes to a nice sharp stop, while the other half get gradually more passive. It is a bit of a bummer since my Ohio Power Bar and 2.0 were half the price but didn't have this issue. How this wasn't a boneyard bar is beyond me.
Date published: 2018-07-11
Rated

5

out of

5
by
DrWP
from
Might be the best
I never write reviews, but there's not much out there on this stainless bar (most of the reviews are just copy pasted from the cheaper versions), and I'm hoping to help some others out. I recently purchased the oly bar in the stainless version, and I'll hope to update the review as I have more time with it. Out of the box, the bar is flawless. Literally a work of art. The contrast of the stainless against the chrome sleeves is spectacular. Ok, on to more important things. I consider an Eleiko competition bar to be kind of the gold standard, so that is what I'll compare it to. The spin on this bar is as good or better than the Eleiko. The stainless steel functions great, and I think this is really where this bar makes some separation from the Eleiko. Regarding the whip, I think you need >190kg on a bar for the whip to really make a big difference, and I don't lift that heavy on my Olympic lifts, so all I'll say is that the whip seems comparable to the European bars. The tensile strength on this stainless is slightly less (I believe 200k vs 215k on the Eleiko and Rogue Euro model), but I don't notice a difference, and I'll be honest, the bar is not going to bend. I assume that something about the stainless caused rogue to need a slightly different formulation, but it seems to be spot on. Ok, here's why I think this might be the best bar on the market today: the knurl is other-worldly. In a word, it is perfect. The chromed bars are good, some even great. But, I've never felt a knurl like this on an Oly bar. It is an absolute joy and better than any chrome lined bar I've ever felt. I have a Cerakote Bar from rogue as well, and it is very very good, but it's not like this. In recap for the Rogue stainless vs Eleiko comp: Spin: draw (maybe slight edge to Rogue). Whip: difficult for this reviewer to comment on, but Eleiko is sort of the standard. Knurl: Rogue stainless by a mile. Just a couple of other thoughts: someone commented on metal flakes on the stainless bars. I saw a few specs here and there sparking in the light when I unpacked the bar. I wiped the bar with a rag and had no trouble with metal in my hands or even metallic dust on my skin when lifting. they either fixed this issue or it was just a bad one, because it hasn't been an issue for me. The other rogue bars I strongly considered were the Pyrros and the Euro, in that order. I got this bar to use many times a week, and I did not want a center knurl. Many outside reviews comment that the Pyrros center knurl is quite aggressive, despite what rogue will tell you, and that just wouldn't work for me for every day training. The Euro has great reviews as well. Again, it seems to have a pretty aggressive center knurl, and would probably be a fantastic competition bar. The big issue for me is that it is another chromed oly bar. At only $300 cheaper than an Eleiko comp bar, I honestly would probably just opt for the Eleiko in that price range. What makes me so excited about this bar is the stainless steel, especially the knurl, and I think that sets it apart from anything else available right now and justifies the price. I believe it just might be the best bar available right now (or the Pyrros if you want a center knurled comp bar), and oh yeah, it's American made.
Date published: 2018-04-21
Rated

4

out of

5
by
CarlosVizcardo
from
Almost perfect
Let me start off by saying that I love this bar. The knurling is great, but mine was a little bit more passive outside of the olympic marks. I didn't want to deal with returning and receiving a new one, but overall a great buy.
Date published: 2018-02-28
Rated

5

out of

5
by
Mike9
from
Bought one from the boneyard!
Man what a deal. I bought one of these from the boneyard. Super awesome. Spins really smooth on the bearings all the same specs as the standard bar. As a bonus in my opinion the boneyard is a raw shaft. Such a great feel you dont get from coated bars. If your on a budget and want an awesome Olympic bar get this one while they have them. Honestly I can only see (on my bar) a little bit of the knurling thats slightly and I mean slightly off. The knurling feels no different than my Castro bar and except for one little spot it looks no different. I am so glad I took a chance on this bar it exceeded all my expectation.
Date published: 2018-01-09
Rated

5

out of

5
by
ChiefDean
from
Awesome bar!
Very happy with this purchase. Knurling is awesome and the spin is great on the bar. Looking forward to setting all types of PRs with this bar. Great product!
Date published: 2018-01-05
Rated

5

out of

5
by
Brother Rick
from
As Advertised!!!
Made In The USA + Rogue Quality = Perfect Bar!!! Awesome spin. I personally would put the knurling in the middle range, but I like that. I spent the extra money for the stainless steel because I workout in my garage in Northwest Ohio.
Date published: 2017-11-10