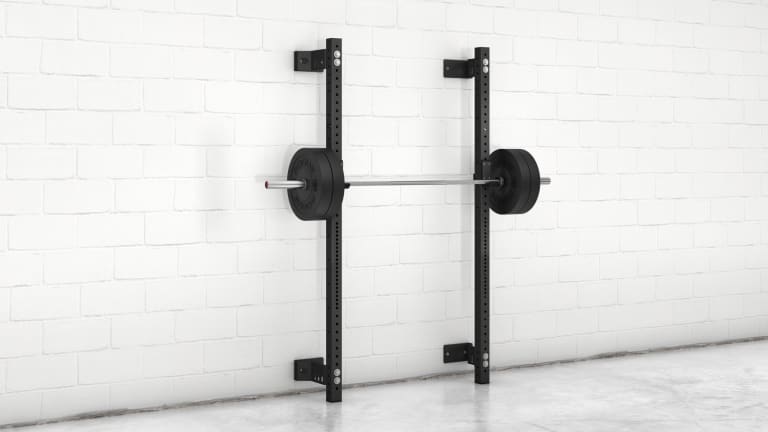 Monster Lite Rack Wall Mount Kit
Rack Not Included
Gear Specs

Brand
Rogue Fitness
Color
Black
Made In USA
Yes
Product Weight
165LB (Including Stringers & pull-up bar)
Length
14" (depth from mounting surface)
Width
49" Outside Uprights 43" Inside Uprights
Height
90.375"
Steel Notes
3x3" 11 gauge steel
Monster Lite Compatible
Yes
Product Description
The Rogue 90" Slim Rack combines a simple, efficient set-up with the reliable stability of two wall-mounted Monster Lite uprights (3x3" 11-gauge steel).
Read More
Rogue RML-90SLIM Rack
The Rogue 90" Slim Rack combines a simple, efficient set-up with the reliable stability of two wall-mounted Monster Lite uprights (3x3" 11-gauge steel). For a door-mounted version of this design, see our RML-90SLIM Door Mount Fold Back Rack.
All versions of this squat stand are manufactured in the USA and include Westside hole spacing (1" through bench and clean pull zone, 2" spacing above and below), a texture black finish, a pair of Monster Lite J-cups, and UHMW plastic feet to protect your flooring. Customers can also custom-select several key components of the unit's set-up, including the type of mount (bracket vs. crossmember) and whether to include Rogue Stringers and/or a 43" Single Pull-Up Bar.
Well suited to most garage gyms / home gyms, the compact RML-90SLIM is 90.375" tall and creates a minimal footprint, with the front face of the uprights extending just 15" from the wall in the crossmember mount option.
Please Note: Installation is recommended only for secure concrete walls or wood studs, and the additional support of stringers (whether you use Rogue Stringers or your own) may be needed. It is the buyer's responsibility to install the Slim Rack in a location with hardware capable of supporting the aggregate weight of the rack and all gear mounted or stored on it, as well as any person using it.
Once installed, the Slim Rack will also be compatible with a wide range of Monster Lite Series attachments, sold separately.
Rogue RML-90SLIM Rack Installation Options:
Optional Stringer Pair:
For optimal support, Rogue recommends adding a pair of stringers to your Slim Rack order. Rogue Stringers are compatible with both the Bracket and Crossmember mounting options, and include all hardware for set-up. Made from 11-gauge, laser-cut and formed steel, our stringers are finished in a texture black powder coat and feature exclusive laser-cut Rogue branding. They measure 59" long x 10.125" tall, and extend 0.8125" (depth) off the mounting surface when installed.
Optional Pull-Up Bar:
You can order the Slim Rack with or without a 43" Single Monster Lite Pull-Up Bar (1.25" OD). Hardware is included with the bar.
Note on Spotter Arm Use: How and what the rack is secured to on the wall should be checked by a contractor. Depending on the wall type and how it was secured will depend on if the wall can take that stress.
Gear Specs
Specifications:
Made in the USA
Wall-Mounted Rack
(2) 90" Uprights: 3x3" 11-gauge steel
Westside Hole Spacing - 5/8" holes
Finish: Texture Black
(2) UHMW Protective Plastic Feet
(2) Monster Lite J-Cups
See More: Rogue Power Racks
Shipping
Rogue Fast Shipping
The Rogue Shipping System allows you to track your order from the time you place it to the time it hits your door. Order today, track today.
Key Features of the RML-90SLIM Rack:
Featuring a pair of 90" Monster Lite uprights, the wall-mounted RML-90SLIM Rack is budget-friendly and a great way to get the benefits of an M-Lite squat stand with the absolute minimum footprint in your gym. In the crossmember-mount option, the front face of the uprights extend just 15" from the wall, leaving more room for other equipment and other athletes in a cramped training space.
Quality Rogue Construction
Made in the USA, the RML-90SLIM Rack features (2) 3x3" 11-gauge steel Monster Lite uprights with laser-cut numbering, Westside hole spacing, and protective UHMW feet (true overall height of the unit, with the feet, is 90.375"). Both the crossmember and bracket configurations come standard with a set of standard Monster Lite J-Cups, all required mounting hardware, and a texture black powdercoat finish. Customers can add a Rogue 43" Single Pull-Up to their order in the purchase area.
Choice of Bracket or Crossmember Mounting
This unit can be ordered with your choice of either (a) 4 mounting brackets or (b) 4 steel crossmember attachments. The crossmember option is designed to mount to the Monster Lite uprights on one side and a stringer on the other, which creates more potential for adding extra Monster Lite attachments such as the Monster Lite Rack Mount Single Bar Holder, Vertical Bar Hanger, or Plate Storage Post. Please note that the crossmember mount also involves an added cost compared to the standard bracket mount (see purchase area for details).
Even if you opt for the bracket set-up, we still recommend adding a pair of our 11-gauge steel stringers to your order for maximum stability. These stringers feature pre-cut slots, allowing users to mount them to a standard wood stud wall (4 studs required for installation). All required hardware (16-3/8" x 2-1/2" black wood lags and washers) is included with the stringers, but any customers attempting to mount to a wall construction other than wood stud will be responsible for acquiring the correct hardware.
Reviews
Great rack
Very heavy duty excellent powder coat easy to assemble just heavy Was going to get shorter uprights due to ceiling height glad someone in customer service contacted me and ended up just cutting a couple inches off rack wouldn't have worked otherwise
Yes, I recommend this product
Solid
Easy install (I used wood stringers instead of Rogue's). Took two people just for the initial few bolts. I installed the stringer (centered) on the rack and then out the rack onto the wall to properly line up and square the rack to the studs.
Yes, I recommend this product
Great squat rack for small spaces
I bought this about three years ago at the height of the pandemic when I was building my garage gym. Setting the thing up took very little time and the thing is still holding up very nicely. There's absolutely no rust on it and it pretty mich looks brand new. It's a little close to the wall, so that might be something to consider if you're wanting to add storage pins on this thing. All in all a great piece for someone looking for a squat rack that will accomodate smaller spaces.
Originally posted on roguecanada.ca
Great Squat Rack
For the price, this squat rack is very well made. I've had mine for almost two years in a garage, use it all the time, and it still has very little rust, pretty much no rust and is holding up very nicely. Definitely worth the money, especially if you're low on space. It sticks out just far enough to do pull ups as well and is overall stable.
Yes, I recommend this product
Clinic Gains
We just put the new rack in our physical therapy clinic. Loving our new found ability to teach functional movements patterns...Teaching people that grandbaby lift (deadlift)!
Yes, I recommend this product
Perfect for Garage Gym
I've had this rack installed since fall of 2020. It works great for my garage gym. The top stringer is fastened against wooden studs, the bottom stringer is fastened to concrete block with big Tapcon screws...sturdy as any rack you'd find at any gym. I'd buy it again 20 times over.
Yes, I recommend this product
Great and solid
This equipment it's exceptionally solid and well made.
Yes, I recommend this product
Great Quality/ Too close to wall
The rack itself is great quality like anything Rogue. I hired someone to install it for me. Well worth it. He knew what he was doing and it took him a couple hours. The only thing that keeps me from rating this a 5 is it's distance from the wall. I knew I wouldn't be able to do kipping pull-ups. But even strict toes to bar are nearly impossible. Pay a little extra and get a rack that you will be able to actually use the pull up bar.
#RYOUROGUE
Tag your photos on Instagram and Twitter with #RYOUROGUE for a chance to be featured in our gallery
View Full Gallery