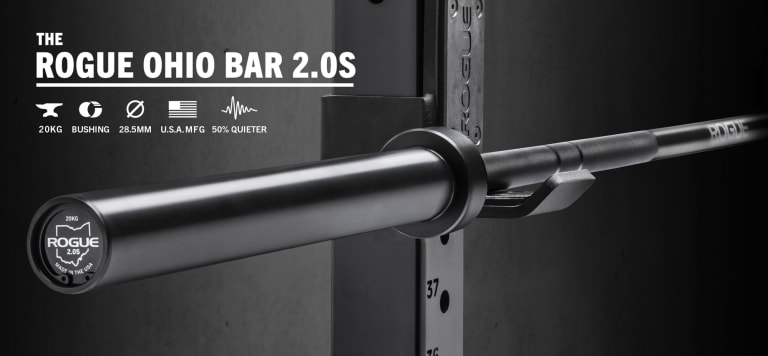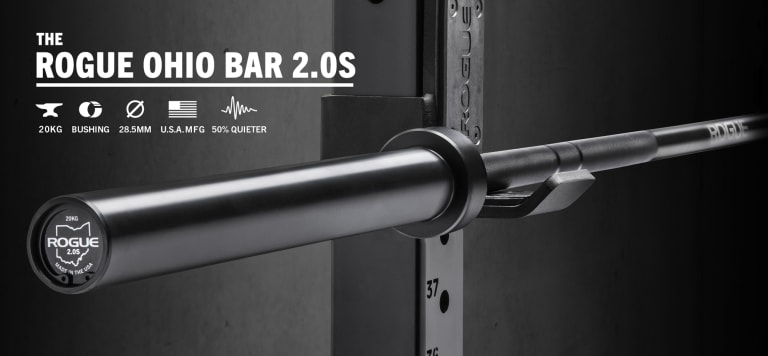 Product Description
The Ohio Bar 2.0S is the first barbell to feature built-in sound dampening properties. In testing, it consistently measures 10 decibels (dB) quieter than typical bars when dropped in the same conditions. To the human ear, that's equivalent to being half as loud as what you'd expect from your current barbell.
Read More
ROGUE OHIO BAR 2.0S
The Ohio Bar 2.0S is the first barbell to feature built-in sound dampening properties. In testing, it consistently measures 10 decibels (dB) quieter than typical bars when dropped in the same conditions. To the human ear, that's equivalent to being half as loud as what you'd expect from your current barbell.
For nearly 100 years, dating back to the earliest adjustable-weight, rotating-sleeve bars of the 1920s, the sleeves on almost all standard barbells have been fastened to the shaft in a manner that allows for metal-to-metal contact, creating much of the noise when the bar is dropped. To counter this, Rogue developed a new, patent-pending construction method that eliminates all metal-to-metal contact between the shaft and sleeves. In addition, this advanced design incorporates components and materials often used in heavy duty military vehicles, high performance automotive, and industrial machinery, where reliability is critical. This includes top-tier proprietary polymer bushings and dampened endcaps to further decrease the noise on the drop without sacrificing the bar's performance, strength, or durability.
In addition to its internal innovations, the Ohio Bar 2.0S is also our first barbell to feature our new proprietary sleeve finish, which transforms the surface of the steel rather than coating it, greatly increasing the long-term corrosion, impact and abrasion resistance of the black finish.
Apart from these improvements, we have kept the functional aspects of the barbell the same as our standard Cerakote Ohio Bar, including a 28.5mm, 190,000 PSI tensile strength steel shaft and a signature Ohio knurl with breaks in the knurl for powerlifting and weightlifting (there is no center knurl). The ceramic-based Cerakote shaft coating offers corrosion resistance up to 100x that of traditional black zinc, and our patented Rogue Work Hardening (RWH™) process gives the bar the highest possible F Rating of F-8R. That means it has the highest level of fatigue resistance of any of our barbells and can stand up to decades of abuse even in high volume gyms.
*Please Note: The optional Proprietary Matte Black metal treatment process also hardens the steel, which can cause some additional friction with plates that have a chamfer.
Gear Specs
Specifications
Manufactured in Columbus, OH
Patented Design
Diameter: 28.5MM
Weight: 20KG
Dual Knurl Marks for Oly and Power lifts
No Center Knurl
190,000 PSI Tensile Strength Steel
50% Quieter than standard Ohio Bar on the drop
Proprietary Bushings
Shaft Finish: Cerakote Black
Sleeve Finish: Proprietary Matte Black Finish
New Improved Endcaps
Lifetime Warranty Against Bending*
Shipping
Rogue Fast Shipping
The Rogue Shipping System allows you to track your order from the time you place it to the time it hits your door. Order today, track today.
For more information on F Scale™ click here.
As always, each barbell is machined and assembled in Columbus, Ohio, and backed by a Lifetime Warranty Against Bending.
*Please Note: This Cerakote shaft finish of this bar is currently available only in Black.




DROP TEST
Gear Specs

Brand
Rogue Fitness
Color
Black
Guarantee/Warranty
Lifetime Warranty*
Made In USA
Yes
Loadable Sleeve Length
16.3"
Bar Length
86.75"
Diameter
28.5MM
F Rating™
F8-R
Bar Type
Men's Bars
Bar Use
Multipurpose
Bushing/Bearing
Bushing
Bar Weight
20KG
Knurl
Multi
Center Knurl
No
Knurl Mark
Dual
Shaft Coating
Cerakote Black
Sleeve Coating
Proprietary Matte Black Finish
Tensile Strength
190,000 PSI
OUR QUIETEST BARBELL TO DATE
In our testing, the Ohio Bar 2.0S was 50% quieter than typical bars when dropped from the same height in the same conditions. The main patent-pending design features responsible for this are the new proprietary bushings, improved endcaps, and the elimination of all metal-to-metal contact between the shaft and sleeves. By integrating materials and construction methods from the worlds of performance automotive and military vehicles, we created a bar that is not only quiet, but that offers an extremely smooth rotation and solid feel.
The bar's shaft is finished in Black Cerakote, an advanced ceramic-based coating originally popularized in the gun industry for its remarkable durability in thin applications. Cerakote can deliver superb abrasion / wear / corrosion resistance over time—100X that of standard black zinc. Additionally because of the thin application and the matte finish of the Cerakote, this finish creates the best possible grip.
PROPRIETARY SLEEVE FINISH
The sleeves of the Ohio Bar 2.0S are the first of any Rogue barbell to feature our new process that transforms the surface of the steel rather than coating it. The process greatly improves the sleeves' corrosion resistance, impact resistance and abrasion resistance. Additionally, the coloring extends below the surface of the steel. Therefore, unlike sleeves treated with surface coatings, these sleeves will maintain their beautiful matte black appearance after extended use.
The shaft of the Ohio Bar 2.0S is made from steel manufactured in the US to our specifications (same as our original Ohio Bar). It has proven to be one of the best steel variants for a multi-purpose barbell, providing enough whip for Oly weightlifting but enough stiffness for powerlifting. Each shaft is treated with our patented Rogue Work Hardening (RWH™) process, leading to increased durability.
Every bar shaft is machined in Columbus, Ohio, with painstaking attention to detail. The knurling has been carefully refined over the years, as well, for a firm but non-abrasive grip (there is no center knurl). We assemble the Ohio Bar 2.0S in house with our new patent pending process that eliminates all metal-on-metal contact, leading to 50% less noise when dropped.
The Rogue Ohio Bar 2.0S eliminates all metal-to-metal contact between shaft and sleeves making it 50% quieter on the drop.
F SCALE™
The F Scale™ is a durability scale for barbells based on functional testing at stresses similar to what barbells experience when being dropped from overhead. Bars that have been treated with Rogue Work Hardening (RWH™) are designated by having an R in their F Rating™. For more information on F Scale™ click here.
OXIDATION RATE
The resistance of a barbell to oxidation depends on the type of steel and the coating. Barbells at the lower end of the spectrum will require more care and maintenance to preserve their appearance than barbells at the upper end of the spectrum.
*Warranty against bending does not cover any bar which has been damaged due to negligent or faulty use, alteration, maintenance, storage or handling by the user. Negligent or faulty use includes abusive dropping of the bar (i.e., dropping the bar on a box, bench, spotter arms or pins in a power rack, excessive dropping with insufficient or damaged bumpers, or excessive dropping with iron plates, and similar usage). Any specific issues regarding a Rogue product with which a customer is not satisfied will be reviewed on a case-by-case basis. We have found that most problems with bars we replace are related to abusive use rather than manufacturing or materials issues.
Reviews
Much quieter! And spins good after service.
It's much quieter than my normal Ohio bar. No metal noise when dropped. I am surprised about all these reviews about spin that say they have serviced it. When new the spin was not great and it got worse over time. I finally remembered to service it after a workout. I just took out the two retaining rings, slid the sleeve down, cleaned with a green scuff pad, and covered with a waterproof grease. Now it spins great. Almost as good as my serviced regular Ohio bar! I use at home for CrossFit including alot of oly lifts.
No spin - buy the standard rogue bar
Listen to all the reviews saying it has no spin. I spray silicone wd-40 and get a couple days of reasonable spin (still way less than other rogue bars) and then it is barely a step above a powerlifting bar after that. Quiet? Sure. You're still dropping plates and metal collars against a barbell are always going to make noise without a very expensive platform. Interesting idea but a failure in execution.
Quiet barbell for price, not perfect
This barbell is super quiet and that's a great fit for my garage gym. However, the combo of the slightly oversized collars and the grooved sleeves make it difficult to get metal plates on and off. It's a nuisance. Arguably, this is helpful when you're dropping metal plates with collars (they will shift less due to the grooving), and there is no issue when using bumpers, which have big smooth rings which allow for smooth sliding. Would be a better bar without the grooving, in my judgment.
Yes, I recommend this product
Great idea... but far from expectation
I bought this bar a few months ago and was super excited to use it for my home gym. The knurl on the bar is great and it looks nice but there is virtually zero spin, my plates are tough to put on because its a tight fit, and the bar wants to rust. I wish I would have gone with the tried and true Ohio bar.
Quiet but has no spin
This was the first Rogue Bar I bought, so expectations were pretty high. Although it is very quiet, it has very minimal spin. Almost non existent. I expected much better quality for a $400 bar
Response from Rogue Fitness:
February 23
Thank you for posting your feedback on the Ohio Bar 2.0S! We're sorry to hear this bar is not meeting your expectations. We are going to have the team reach out to you to go over your bar's spin.
Some Dissappointing Issues
PROS: - Quiet as advertised - Super grippy knurling - Shaft is solid all rounder CONS - Proprietery sleeves are trash, don't stay black and rust easily; massive downgrade from 1.0 (Less than 3 months use by single user) - "Smooth spin" more like what spin. Was told it would break in, Incorrect; it has degradedly less spin than any Rogue bar. See pic for sleeve comparison with my daughters much older and heavily used Bella bar. comparison
Originally posted on rogueaustralia.com.au
Horrible for oly lifts, but quiet.
I wish I would have bought the regular ohio cerakoat bar. I have had this bar for 1-1/2 years and was giving it the benefit of doubt, but I just can not get this thing to spin. This is bad for me because I really love olympic lifting, but trying to cycle the barbell with any kind of weight is so uncomfortable. I have tried just about every kind of lubricant recommended for barbells and nothing works. If your just a casual garage gymer that works out a couple of days a week, you could maybe look past it, but I wouldn't recommend it to someone who is and avid crossfiter or oly lifter that uses the bar every day. Especially for over $400. But its quiet.
Rogue2.0S
Treated myself to this as a Xmas present awesome quality great feel to the bar and it is so quiet when hits the floor, expensive but 100% worth it pure quality.
Yes, I recommend this product
Originally posted on rogueeurope.eu
#RYOUROGUE
Tag your photos on Instagram and Twitter with #RYOUROGUE for a chance to be featured in our gallery
View Full Gallery