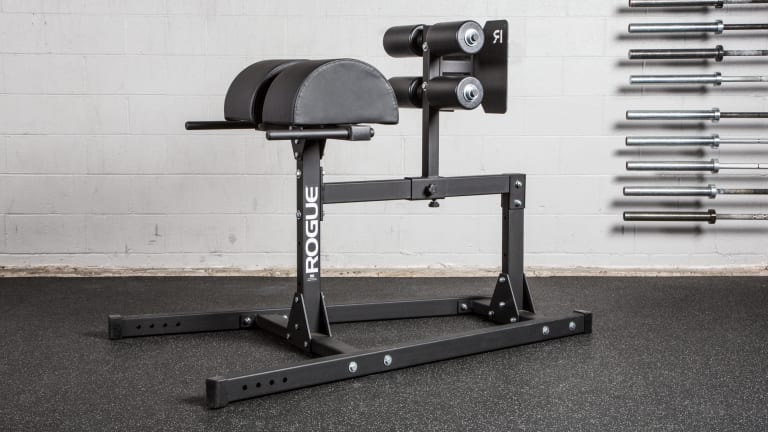 GH-1 Wheel Attachment Kit
Gear Specs

Brand
Rogue Fitness
Made In USA
Yes
Product Weight
195LB
Length
68.5"
Width
45"
Height
49" (43" to top of hip pad)
Foot Print
68.5" x 45"
Steel Notes
2x2" and 2x3" 11- Gauge Steel
Other Product Specs
0.375" and 0.5" hardware
Product Description
Fully adjustable and equipped to remain steady while generating peak power output, the Rogue GH-1 is a comprehensive tool for midline stabilization and the strengthening of hamstrings and glutes.
Read More
Rogue GH-1 Glute Ham Developer
Fully adjustable and equipped to remain steady while generating peak power output, the Rogue GH-1 is a comprehensive tool for midline stabilization and the strengthening of hamstrings and glutes.
Our compact, portable Glute Ham Developer is manufactured in the USA from 2x2" and 2x3" 11- Gauge Steel, with a new bolt-together, triangular-base design and rubber feet for max stability. One of the most durable GHDs on the market, the GH-1 is a budget-priced cousin of our Rogue Abram GHD 2.0.
Along with strengthening muscles within the posterior chain, GHD training allows one of the only safe ways to actively train your spinal erectors. GHD sit-ups also result in one of the most powerful abdominal contractions of any movement in the gym. The midline stabilization gained acts like an intrinsic weight belt protecting the spine.
Gear Specs
Specifications:
Updated Bolt-Together Construction with Triangular Base
2x2" and 2x3" 11- Gauge Steel
Includes Foam Roller Foot Pad
Ankle roller pad design with heavy duty moisture wicking upholstery
1" adjustable increments on the foot pads
Protective Rubber Feet
Optional Wheel Set for portability (additional cost)
Holes for band pegs (band pegs not included)
Oversized laser cut 0.1875" steel foot plate
0.375" and 0.5" hardware included
Total foot print: 68.5" x 45"
Color: Black with Rogue logo in white
Shipping
Rogue Fast Shipping
The Rogue Shipping System allows you to track your order from the time you place it to the time it hits your door. Order today, track today.
KEY FEATURES OF THE GH-1
With the latest version of the GH-1, Rogue utilizes the same bolt-together, triangular base design and front handle assembly as our Abram GHD 2.0 machine. The ankle roller pads are horizontally adjustable and the vertical position is in the ideal angle for peak muscle recruitment, benefiting any athlete who is training core-to-extremity power and strength.
The updated foot roller assembly on the GH-1 is adjustable in 1" increments along the length of the slide rail, locking into place with two threaded knobs and a convenient pop pin. The roller pads themselves are 8.5" long by 5" in diameter, and are spaced 8" on center vertically, creating a 3" gap between them for foot placement. Every aspect of this design makes the machine easily adaptable to athletes of most sizes.
Quality Construction = Max Stability
The GH-1 is manufactured in Columbus, Ohio, using 2x2" and 2x3" 11- Gauge Steel tubing, a 0.1875" laser-cut steel footplate, and heavy-duty, moisture-wicking pads. This durable construction, along with our triangular-base design and the inclusion of protective rubber feet, produce a consistent level of performance.
Dynamic New Additions to Your Gym
As the leading manufacturer of strength and conditioning equipment, Rogue has developed a range of top quality, stand-alone strength training machines that go far beyond the standards of most sporting good store imports. This includes not only our original GHDs, but dynamic tools like the Rogue Z Hyper and Rogue Dog Sled 1.2, among many more.
For a 195LB machine, the GH-1 is easy to set up and easy to move, with an optional wheel set available at an additional price. The triangular design of the unit and the position of the handles allows the user to angle the machine safely on the wheels for quick transport or storage. This makes the GH-1 a potentially ideal Glute Ham Developer for any garage gym or training facility where space is at a premium. Adjust it, use it, move it. Make it work for you.
Reviews
Still going strong after a decade
Bought 4 of these 12 years ago and they pad is still in great shape. Top notch material and doesn't wobble.
Yes, I recommend this product
I love it but these memory foam D pads are awful
I've had back issues that I managed along time ago and I purchased this GHD thinking that I was going to improve my hams and glutes, but the D pads are TERRIBLE. They're too soft and squishy. Now I'm going to have to buy EVA foam D pads from another website. I was hoping that Rogue would have those but they don't.
Yes, I recommend this product
Least favorite of several brands
We have several brands of GHD's in the gym. This is by far the least popular and most cumbersome one. In addition the foot pads crack with minimal use.
Response from Rogue Fitness:
October 18
The pads on the GHD's are a high contact, wear and tear item. We understand these may need replaced over time and our team is happy to help set you up with a new order for them if needed.
Love my GHD But!
This version of the GHD is hard for some of the folks to adjust, i.e. sliding the post on the rail to reposition.
Yes, I recommend this product
Frame is built solid but big pads are awful.
Solid frame, but the main big pads wear out fast. They are filled with cheap carpet filler and are not well put together at all. Looks like they are rushed and there is zero quality control on the staples. Within months of use the filling was falling out. We've had to redo them and refill them constantly then staple them shut again. You would think Rogue would offer up better pads. They'll say they wear, but I've seen old GHDs with pads that last A LOT longer than this. But hey for $90 EACH you can buy some new ones from Rogue...
Response from Rogue Fitness:
Sep 2022
Thank you for your feedback! We consider these pads a consumable product and do make them available for purchase when needed.
EXCELLENT Product
FAST shipping and true to Rogue's reputation = built to LAST! Don't hesitate on snagging one. Hands down, my fav piece of Rogue gear.
Yes, I recommend this product
Great product
Amazing quality, feels professional, does exactly what you need it to great for core strength. Worth the higher price
Yes, I recommend this product
My favorite piece of equipment
I bought this for my private practice. It's the best piece of equipment and most useful for posterior chain weakness. I feel taller and my clients have a love/hate relationship with it (mostly love). Sturdy, easy to assemble, top quality material and parts. Thank you RF
Yes, I recommend this product
#RYOUROGUE
Tag your photos on Instagram and Twitter with #RYOUROGUE for a chance to be featured in our gallery
View Full Gallery