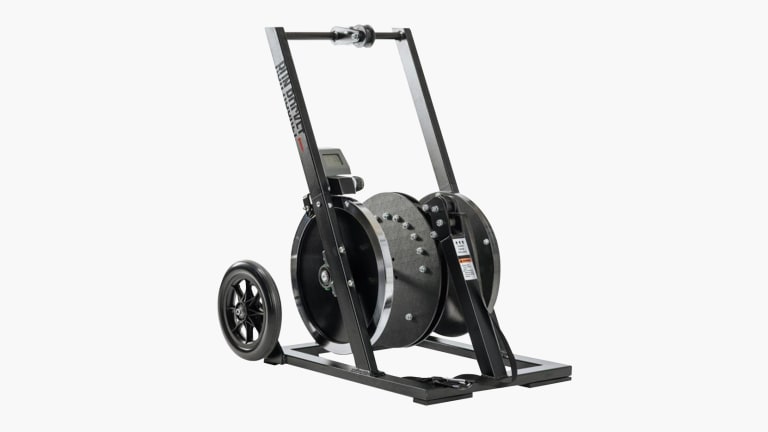 Available only in CONUS 48 states. Pick-up not available
Available only in CONUS 48 states. Pick-up not available
Available only in CONUS 48 states. Pick-up not available
Run Rocket Speed Belt - Small
Available only in CONUS 48 states. Pick-up not available
Run Rocket Speed Belt - Medium
Available only in CONUS 48 states. Pick-up not available
Run Rocket Speed Belt - Large
Available only in CONUS 48 states. Pick-up not available
Available only in CONUS 48 states. Pick-up not available
Gear Specs

Brand
Run Rocket
Color
Black
Made In USA
No
Product Weight
165LB
Length
37"
Width
28"
Height
40"
Other Product Specs
44LB flywheel
Solid tires for easy transportation
Product description
Portable, weather resistant, and infinitely adjustable, the Run Rocket has helped redefine acceleration equipment for the modern athlete, providing natural resistance training for users of any size, discipline or skill level.
Read More
Run Rocket

Portable, weather resistant, and infinitely adjustable, the Run Rocket has helped redefine acceleration equipment for the modern athlete, providing natural resistance training for users of any size, discipline or skill level.
Compared to other resistance training devices—bungees, sleds, weighted vests, parachutes, etc.—the Run Rocket is precision built to mimic the genuine experience of free running; the resistance is linear and smooth, and merely amplified to help develop greater speed and explosiveness.
Each unit includes a 44LB flywheel, heavy-duty tires for all-surface transport, rubber feet for stability, and a solid metal frame with a durable black powder-coat finish. Dual pull points offer more versatility in training, and a Speed Belt is included standard with all orders.
How the Run Rocket Works:
1. Choose your level of resistance using the convenient dial-in knob and digital display.
2. Attach the tangle-resistant / smooth recoil cord to your belt / harness / core bar.
3. Train freely and omni-directionally to develop greater power, speed and agility.
Gear specs
Specifications:
Application: Resistance Acceleration Training
Dimensions: Length: 37", Width: 28", Height: 40"
Weight: 165LB
44LB flywheel
Solid tires for easy transportation
Durable frame w/ powder coat finish - Lifetime warranty
Weather resistant components for outdoor use - 2-year warranty
1 Run Rocket Speed Belt included standard
The Run Rocket has been adopted by dozens of major Division I universities and professional sports teams as a vital component of their strength and conditioning regimens. It can be ordered with any of these compatible components:
Run Rocket Speed Belt:
(1) Speed Belt is included standard with each order. Small, Medium & Large sizes are available to order a la carte. A quick-release seatbelt style buckle makes it easy to quickly switch between multiple athletes. Includes 4 directional attachment points. Available in Small (26"-32"), Medium (32"-38") or Large (38" and above).
Run Rocket Multi-Point Harness:
A custom harness with 6 attachment points. User can rotate 359 degrees while attached. One size fits most.
Rogue Sled Harness:
This easy-on / easy-off vest is Made in the USA, and features a reinforced internal webbing structure, all steel belt fasteners, and steel anchors (one front, one back). With an adjustable, one-size-fits-all design and fully lined, washable interior, the Rogue Sled Harness is great for one athlete's use or for multiple athletes in a larger training facility. Includes 3" wide webbing shoulders and a 1.5" wide belt with padded rib guards, delivering maximum durability and superior performance.
Run Rocket Core Bar:
Simulate pushing a sled, or offset stabilization training. Dual 360 degree attachment points, textured powdercoat finish.
This design includes a lower roller and a higher quick attachment point for agility belts and taller athletes.
Infinitely Adjustable Resistance
Just turn the knob to dial in your desired workout intensity – from light acceleration training to heavy push/pull.
Transports easily with large, no-flat wheels.
Automatic Strap Retraction
When the exercise is complete, the unit SAFELY retracts the strap, without the dangerous whip-like pullback of some resistance units.
Any Surface, Indoor or Out
Rubber, non-marring feet mean the Run Rocket can be used safely on any surface. This also keeps it from moving on high resistance pulls.
Digital Resistance Display
The digital readout with levels from 1 to 30 keep workouts consistent from day to day and from athlete to athlete.
Reviews
Run Rocket
I bought 4 of these for our training center. I would rate the overall machine as very good. We have had consistent trouble with one machine and the support / service that we have received from Run Rocket employee is terrible... I would suggest to go someplace else until they improve their willingness to back their product.
Great Resistance Running Tool
I purchased the Run Rocket to supplement the sprint training I do weekly. It is a great tool and a nice substitute if you do not want to haul out a sled and weights. I have used it in my street when my yard is too wet to perform resistance sprints and works really well. The resistance is adjusted with the turn of a knob. The Run Rocket also has a plate holder in the back which I recommend using for adding weight (even though the unit weighs 165lbs, I still flipped it when I ran sprints). The resistance that it offers is very smooth, steady, & doesn't snag or fluctuate like a sled or parachute can sometimes do. The resistance is perfect for sprint training or running and would recommend the Run Rocket for adding to training toolbox.
Yes, I recommend this product
#RYOUROGUE
Tag your photos on Instagram and Twitter with #RYOUROGUE for a chance to be featured in our gallery
View Full Gallery